SN2 SERIES
SN2 SERIES SN2-110~300 TONS
APPLICATION
Applicable to light, thin material, for single, and progressive die application in blanking, piercing, bending, forming, interlink with ROT line or transfer unit.
One of the most popular and flexible machine types, the two point suspension wide bed gap or 'C' frame range known as the SN2. These machines are available from 110TF up to 300TF and can also be fitted with optional tie bars. This model represents an excellent compromise between 'C' frame and traditional straight sided or ring frame press with increased rigidity and reduced deflection when compared to the standard Sn2 press. The SN2 TBX is a cost-effective way to achieve improved precision and increased die lifetime.


FEATURES
High torque, low noise wet clutch and brake.
Rigid frame with less deflection.
High accuracy transmission gears and high rigidity crank ensure press long life and accuracy.
User-friendly design and all-function electric control system provide high automation compatibility.
Many protective devices ensure operation safety.



DESIGN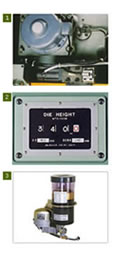 1. Motorized Slide Adjusting Device
The motorized slide adjusting device is adopted with a thin brake motor and operated with push buttons. It provides stable positioning accurancy and quick adjustment.

2. Digital Die Height Indicator
Motorized slide adjusting device fitted with 0.1mm increment digital die height indicator.
3. Dual Safety Valve
The interlock mechanism on the dual valve keeps the clutch and brake form mis-actuation when valve is default.





4. Standard Attachments
Hydraulic Overload Protector.
Electrical Slide Adjusting Device.
Die Height Indicator.
Counter Balancers of Slide.
Rotary Cam Limit Switch.
Antirepeat Safety Device.
Magnetic Storkes Counter.
Miss Feed Detector Socket.
Pneumatic Ejector
Air Outlet.
Maintenance Tools.
5. Optional Attachments
Power Take-off Shaft.
Pneumatic Die Cushion.
Photoelectric Satety Device.
Varibale Speed Motor. (Inverter)
Quick Die Change Device. (Q.D.C.)
Preset Counter.
Knockout Device.
Foot Switch.
Rubber Mount.