SAG2 SERIES
SAG2 SERIES 400~1200 TONS
APPLICATION
Applicable to large type of heavy tonnage die tooling with multiple precision stages in blanking, piercing, bending, forming for single or progressive application.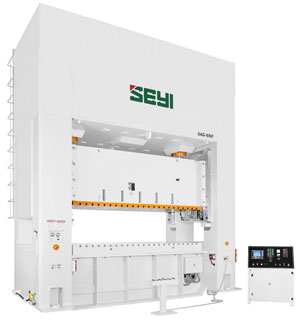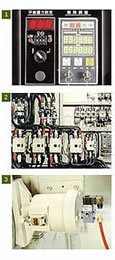 FEATURES
Hydraulic overload protection system
Extra long 8-points guide plate
Air counter balancer device
Automatic recirculating lubrication with distributing monitor device.


DESIGN
1. Digital Slide Adjustment
Digital slide adjustment readout is recessed in front right slide of slide face and indicates the die height in 0.1 mm scale.

2.Safe And Reliable Electrical Circuit
Multi-checking electrical circuit design to ensure a safe and reliable operation.
3. Flywheel Brake And Main Motor FWD/REV Controller (Optional Attachment)
Best design for saving die exchange and installation time.

4. Standard Attachments
Air Counter Balancer System
Hydraulic Overload Protection System
Motorized Slide Adjustment
Programmable Cam Switches
Product Counter
Batch Counter
Misfeed Detector Plug
Air Outlet
Air Ejector
Electrical Light Socket
Automatic Recirculation Lubrication System
Control console
Combination Clutch & Brake
Dual Check Safety Electrical Circuit
Large Lockable Emergency Stop Buttom
Die Light Device
Safety Fence
Ladder
Operating Pedestal (T-Stand)
Tools Box
5. Optional Attachments
Power Take-off Shaft
Die Cushion
Die Cushion Stroke Adjustment Device
Die Cushion Locking Device
Die Cushion Air Quick Release Device
Photoelectric Safety Device
Variable Speed Motor (Inverter)
Flywheel brake and Main Motor FWD/REV Controller
Quick Die Change System
Moving Bolster Knockout Device
Tonnage Indicator
Pneumatic System Application
Anti Vibration Mounts
Safety Die Block