SE4 SERIES
SE4 SERIES SE4-400~2000 TONS

APPLICATION
Applicable for car body chassis component.
FEATURES
Rigid frame design, reduce working vibration & noise
High torque, wet clutch and brake unit with sintered multi-disc linings without abrasion wear problem
Suitable long stroke drawing & blanking processing
Without side pressure, slide move smoothly & accurately

DESIGN
1. Digital Slide Adjustment
Digital slide adjustment readout is recessed in front right slide of slide face and indicates the die height in 0.1 mm scale.
2. Safe And Reliable Electrical Circuit
Multi-checking electrical circuit design to ensure a safe and reliable operation.
3. Flywheel Brake And Main Motor FWD/REV Controller (Optional Attachment)
Best design for saving die exchange and installation time.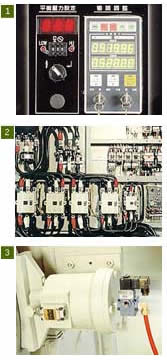 4. General Attachment
Air Counter Balancer System
Hydraulic Overload Protection System
Motorized Slide Adjustment
Programmable Cam Switches
Product Counter
Batch Counter
Misfeed Sockets
Air Outlet
Air Ejector
Electrical Light Socket
Automatic Recirculation (Lubrication System)
Flywheel Brake and Main Motor FWD/REV Controller
Dual Check Safety Electrical Circuit
Large Lockable Emergency Stop Buttom
Die Light Device
Safety Fence
Ladder
Operating Pedestal (T-Stand)
Tools Box


5. Optional Attachment
Power Take-off Shaft
Die Cushion
Die Cushion Stroke Adjustment Device
Die Cushion Locking Device
Die cushion Air Quick Release Device
Photoelectric Safety Device
Variable Speed Motor (Inverter)
Quick Die Change System
Moving Bolster
Knockout Device
Tonnage Indicator
Pneumatic System Application
Anti Vibration mounts
Safety Die Block